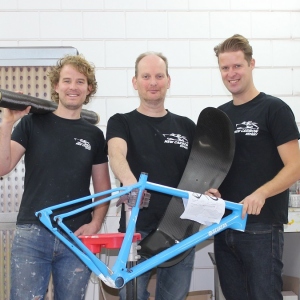 Welcome at New Carbon
With our team of experienced carbon fibre fabricators we focus daily on the repair and production of carbon fiber products. Our years of experience have contributed in the ability to deliver the highest quality possible when it comes to repairing or producing carbon fibre products.
Our Workshop
From our specially equipped workshop we can repair and produce composite products. Mainly existing from fiberglass and carbon fibre. Always stocking several high quality fibers and epoxies makes us capable of performing carbon fibre repairs under tight deadlines. Our colour mixing station and spray booth ensures an authentic and perfect finish of your product.
Repair & Produce
Our field of experience covers mostly all recreational products like Bicycles, the higher end Automotive industry and Marine products.
Therefore our customers are mainly insurance companies. Bicycle brands and shops. Car dealers. And Car/Boat detailing or personalisation companies. We also welcome private owners.